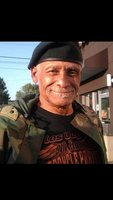 Douglas James Bush
Mr. Douglas James "Butch" Bush, Jr, of Somerset, NJ, passed away on February 5th, 2019 at the age of 76.
The viewing will be held from 4pm-8pm on Thursday, February 14, 2019 at Scamardella Funeral Home, 332 Broadway, Staten Island, NY 10310. The funeral service is scheduled for 10am on Friday, February 15th at Blessed Sacrament Church, Forest Avenue & Manor Road, Staten Island, NY 10310 followed immediately by the internment at St. Peter's Cemetery.
Butch, son of the late Douglas James Bush and Elizabeth (Bush) Byrd was born on September 9, 1942 in Staten Island, NY. He attended Blessed Sacrament Elementary School, went on to St. Peter's High School and ultimately graduated from Curtis HS. Upon graduation, he served in the United States Air Force.

On October 2, 1965 he married his childhood sweetheart and love of his life, Shirley Kee, and together they welcomed three children into their lives. A daughter, Trina, born prematurely who died shortly after her birth; a son, Douglas James Bush III and another daughter, Tonya (Bush) Pemberton.

Butch was always a hard and dedicated worker. He served as a police officer in the NYPD until he found his life's calling as a NYC Firefighter in 1970. He loved his work and served faithfully in that capacity until he retired. During his time as a firefighter, he received numerous citations for his valor.
He enjoyed coaching his children in youth sports and being the neighborhood Dad. Butch loved living a full life! His spirit and energy made for many memorable moments. He enjoyed motorcycles, swimming, diving, basketball, shooting pool and finding any adventure life had to offer.
He is predeceased by his sister, Yvonne Jackson.

He is survived by his former wife, Shirley Bush, who was a true friend until the end of his life. He is also survived by his children, grandchildren, great-grandchildren, nieces, nephews, cousins and many friends. He will be deeply missed by all who knew him.